ISOKINETIC TESTING! Maintaining knee strength to body weight ratios!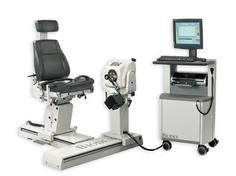 Part of a Physical Therapy knee evaluation should consist of isokinetic testing to determine the quadriceps knee strength in relation to body weight (should be 80% or better of body weight). Also, the strength relationship of hamstrings to quadriceps.
Isokinetic exercise is a type of strength training. It uses specialized exercise machines that produce a constant speed no matter how much effort you expend. These machines control the pace of an exercise by fluctuating resistance throughout your range of motion. Your speed remains consistent despite how much force you exert.
You can adjust the target exercise speed and range of motion to suit your needs. Different attachments on the machines can isolate and target specific muscle groups. You can use Isokinetic exercise to test and improve your muscular strength and endurance .
If the Physical Therapist is unable to complete an evaluation with isokinetic machine, recommend finding one that can complete the test. Lake Center for Rehab 910 Old Camp Rd.in Sumter Landing has an Isokinetic testing machine.
Determining knee strength in relation to body weight is key to any knee strengthening program.
"KEEP PEDALING and MAINTAIN A HEALTHY BODY WITH PROPER NUTRITION and EXERCISE"